ABOUT US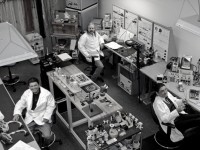 We are a world-class leader in commercial avionic (GSE) test panel manufacturing. We are consciously engaged in the art of making beautiful, functional and cost-effective, avionic-shop bench-top Test Panels, Test Cables, Harnesses, Breakout-Boxes, and specialized Test Fixtures. All our test-panels are equivalent to, or better than, OEM (Original Equipment Manufacturer) test equipment in form and function. We offer wonderful service in a wonderful way: wonderful service for wonderful pay.
PANELS FOR TECHNICIANS BY TECHNICIANS
State-of-the-art test panels hand-made by experienced avionic technician/engineers with 40+ years of real-world avionic shop and flight-line experience, both military and civilian commercial aircraft. We bring an avionic technicians's perspective to-the-table, giving us a unique ability to incorporate usability and performance enhancement features into every test panel, beyond OEM CMM specifications, thus making our products very "technician friendly" in ease of operation and maintenance.
COPYRIGHT AND TRADEMARK DISCLAIMER
Any trade names, brand names and product names of companies appearing on this website and/or products, related documents and materials, are trademarks or registered trademarks of their respective owners, and are referred to here for descriptive purposes only. Santa Fe Aerospace Corp is a private, independent manufacturer and is not affiliated with, nor seeks any affiliation and/or licensing with any other third party entity. All lawful rights, including, but not limited to, all unalienable god-given Human Rights, are hereby expressly reserved.  Without Prejudice UCC 1-308, world-wide.