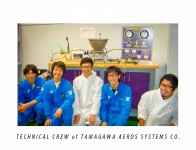 Mr. Taketoshi Sudo of Tamagawa Aero Systems Co. of  Yokohama, Japan, was kind enough to send us photos of his Toilet Assembly overhaul technical crew.
Mr Sudo reports on 14 October 2013, that JAL, his major customer, has recently approved his TP796 VTTS, equivalent to OEM P/N 18000-003, and his facility, for various commercial aircraft toilet assembly repair operations.
Congratulations Mr. Sudo. We at Santa Fe Aerospace wish you all great success.
UPDATE – !!!Ten Years Later!!!>>>>
"About 10 years have passed since the introduction of the test stand, but it is operating smoothly without any problems. Thank you for the very good product."